New Contour LST Radiators Up To 17% More Heat Efficient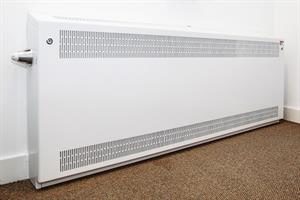 Contour has introduced new round top panel radiators into its range of acclaimed Low Surface Temperature (LST) radiator units. This provides an ideal choice for specifiers seeking safe surface heating solutions that maximize heating efficiency.
The new the round top radiators replace the previous 'compact style' panel emitters and are available right across Contour's LST radiator collection. The new radiators have been designed with smaller water channels which allow more metal to be in contact with the water, providing a faster warm-up time. Significantly they deliver up to an impressive 17% improvement in heating efficiency.
For example, A flat top, wall mounted Contour DeepClean™ LST case 550mm high x1800mm long, housing a new round top 400mm high x 1600mm long Type 22 (double convector) radiator, will now typically produce 2,048 Watts*, compared to 1,757 Watts* of output from the previous emitter model, of a similar size and type.
The increased internal radiator efficiency also means that the outer LST casings can now often be smaller in overall size, but still produce the same heat output as previous larger units. The space saving delivers more room which is useful in busy high-traffic areas such corridors and patient treatment rooms.
To help with project specification, the latest Contour LST radiator output datasheets can be accessed here.
With no add-ons such as side panels and grills, the round top radiators are easier and quicker to clean, more effectively. This should allow lower long term LST maintenance costs and a more effective hygiene regime.
With round top radiators available in up to 160 size variants across single convector (Type 11), double panel plus (Type 12) and double convector models (Type 22), Contour can now provide an LST radiator solution for virtually every room size and environment. That's over 20% more size options across the three radiator types than previously available in Contour's LST radiator range.
See Contour's full range of LST radiators including anti-ligature models
*with Delta T50
See more about Contour Heating Products Ltd
Other News
Featured Supplier


Polyflor Ltd is the UK's market leading manufacturer of commercial vinyl floorcoverings and prides itself in being a leading expert in healthcare flooring solutions. 
The floor has a vital role to play in creating a relaxed environment that is safe, clean and welcoming for patients, staff and visitors. Our product portfolio provides...