mikrozid for rapid cleaning and disinfection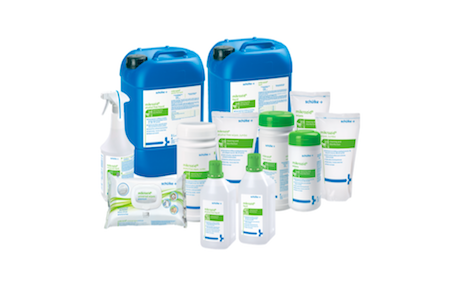 Schülke says its mikrozid wipes and liquid offer the following benefits against the backdrop of the current COVID-19 outbreak:
• Virucidal in one minute, including with enveloped coronaviruses;
• Cleaning and disinfection in a single, ready-to-use product (as part of a two-stage process);
• Certified to EN standards;
• In stock;
• Listed on the NHS Supply Chain.
The company said: "Never has infection prevention mattered more. The transmission of the virus that causes COVID-19 occurs mainly through respiratory droplets generated by coughing and sneezing, and through contact with contaminated surfaces. The virus can survive on inanimate objects and remain viable for up to five days at temperatures of 22- 25 °C, and relative humidity of 40-50% (typical of air-conditioned indoor environments).1 Environmental surface survival times depend on the type of surface. The type of coronavirus causing COVID-19 has been found to remain on plastic and stainless steel for up to 72 hours, on copper for four hours, and cardboard for up to 24 hours.2 The risk of contracting coronavirus and becoming infected through touching contaminated surfaces is high."
The first stage of cleaning involves wiping the surface to physically remove contamination and any soiling. This prepares the surface for the second stage of disinfection, which reduces the number of microorganisms present 'to a level unlikely to cause infection'.
Schülke added: "Selecting surface cleaners for healthcare facilities is critical, as they must be capable of inactivating the virus which causes COVID-19. Not all cleaners / disinfectants have the same antimicrobial properties. Those that conform to an EN standard like EN14476 for virucidal activity will be the most effective when cleaning surfaces contaminated with coronaviruses."
To 'take the stress' out of selecting surface cleaners / disinfectants, the mikrozid range of wipes and liquid are all validated to EN standards for inactivating viruses, including the enveloped coronaviruses. mikrozid wipes and liquid are alcohol-based, for rapid disinfection of medical devices 'in all areas with an increased risk of infection, and where short contact times are required'. mikrozid Universal wipes are especially suitable 'where a material- friendly disinfectant' is required. mikrozid alcohol-free wipes are also suitable for surfaces sensitive to alcohol, such as leather, PVC, and acrylic glass.
With 135 years' infection prevention experience, Schülke also offers free CPD-accredited online training programmes for healthcare staff.
See more about schülke & Mayr UK Ltd
Other News