Rada providing critical support in fight against COVID-19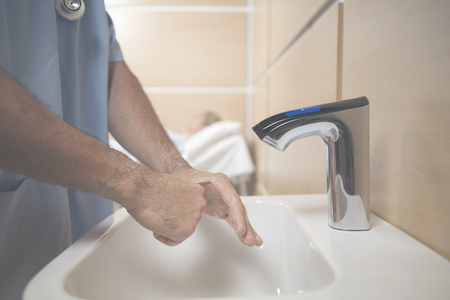 Washroom controls specialist, Rada, says it is working with critical care facilities to support staff and 'help the NHS win the fight against COVID-19'.
Its Safetherm mixer tap has been specified and installed in Nightingale hospitals and NHS facilities across the UK. Designed specifically for healthcare use, Safetherm is a thermostatic clinical tap said to improve bacterial control and user safety. Rada is also working with hospitals to adapt their existing facilities to help guard against the spread of COVID-19, including by installing additional handwashing stations at entrances and other access points to support infection control. This has included some of the first installations in the UK of the company's new Intelligent Care range (pictured). The digital tap, with non-touch controls and digitally set thermal disinfection and duty flushing, was selected both for its performance, and Rada's ability to respond to deadlines and deliver components to site fast.
Katy Rogers, Commercial Business director, said: "We're working incredibly hard to support critical care facilities and meet the immediate demand. Our manufacturing line is operational, and our specialist healthcare taps and showers are being delivered to healthcare facilities across the UK – with some orders delivered within 24 hours.
"Handwashing is one of the simplest, but most important, tasks in helping control the virus's spread. Using washroom controls designed specifically for healthcare facilities can make a valuable contribution to keeping staff and patients safe."
Rada's range of healthcare taps – designed to meet infection control and user safety demands – includes its digital taps – Intelligent Care, Sense, Acu, and its mechanical taps – Safetherm and Thermotap.
See more about Rada – A Kohler Company
Other News