Nurse call systems recommissioned in just 16 days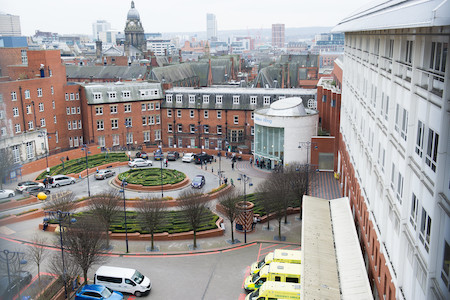 When the Leeds Teaching Hospitals NHS Trust decided to re-open three wards at Leeds General Infirmary in response to the COVID-19 outbreak, long-standing supplier, Static Systems Group, recommissioned the nurse call solutions in all three in 16 days.
SSG's Codemlon nurse call solution was first installed in wards X31, X34, X37 over seven years ago, and Static Systems' work entailed substantial recommissioning to bring the systems into line with the latest HTM compliance. Andrew Hussey, Account manager at SSG, said: "Multiple generations of our nurse call technology have been installed on the Leeds General Infirmary site, and modified and adapted to suit the hospital's changing requirements. We were delighted to be asked to assist with this prominent project to enable the Trust to treat COVID-19 patients."
Given the increase in the number of cases of COVID-19 during this time, the Trust set a very tight timescale for the wards to open to patients – with the original handover deadline of the end of April brought forward by almost three weeks to 10 April 10. SSG successfully completed all the required work in just 16 days – from initial site survey to handover. All site labour was completed within a six-day period.
Andrew Hussey explained: "We held an initial meeting and conducted a visual system survey before making our recommendations to the Trust. We also undertook a secondary system survey, including powering up and fault finding, before reporting back and agreeing the solutions for the recommissioning pathway. We liaised closely throughout with the electrical contractor, JA Richardson, completing the final test and commissioning before handover to the Trust one day ahead of its deadline."
All three wards, which have between 20 and 25 beds, now feature the latest version of SSG's Codemlon addressable loop wired nurse call solution, which is designed 'to provide an extensive range of advanced healthcare communication solutions, including smart device integration for enhanced staff efficiency,.
Andy Wiggins, Electrical designer, Capital Projects, at Leeds Teaching Hospitals NHS Trust, said: "SSG has been our preferred nurse call technology provider since 1979, so we know we can rely on it to provide robust, cost-effective solutions. The SSG team responded quickly, and adapted to a changing schedule. This was a very high-profile project, and it was essential SSG could deliver the installation on time – as it did – as the wards form a key part of our COVID-19 treatment plan. We have been very impressed with the solutions and service SSG has delivered on this key project."
See more about Static Systems Group Plc
Other News