'Stress-free, hassle-free, adhesive-free' – Forbo's Fast Fit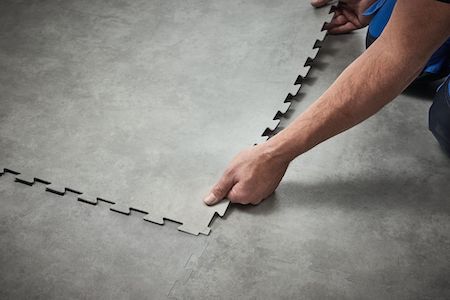 Forbo's Fast Fit collection comprises a range of its adhesive free flooring solutions, which have been developed for quick and easy installations for minimal disruptions – perfect for healthcare facilities where downtime is not an option.
The collection consists of Forbo's genuinely adhesive-free solutions, including its entrance flooring system, Coral Click; its luxury vinyl tile collections, Allura Click, Allura Ease, and Allura Puzzle, Colorex Plus – its 'technical flooring solution designed to control static discharge', and the company's award-winning Modul'up sheet vinyl.
Forbo explained: "As all of the products within the Fast Fit collection require no adhesive, and are quick and easy to fit – since they can often be installed on the existing subfloors, or even over existing floors, with minimal preparation. Work can thus be completed overnight or even while the premises are still in use, depending on the size of the installation area. There is less dust and mess, and end-users are not exposed to the aromatics and VOCs usually associated with adhesives. The floor is ready for use immediately after installation – not only for footfall, but equally for heavy load trolleys and beds.
"When it's time to replace a Fast Fit floor at the end of its service life," Forbo continues, "the products are easy to uplift and re-use or remove and recycle, as there is no adhesive residue on the back of the material. Sub-floors are left clean and sound ready for a repeat installation."
Forbo describes Fast Fit as 'a proven technology', with over one million square metres installed worldwide. To learn more about the collection, visit www.forbo-flooring.co.uk/fastfit
See more about Forbo Flooring Systems
Other News