New modular SSD for Stoke Mandeville hospital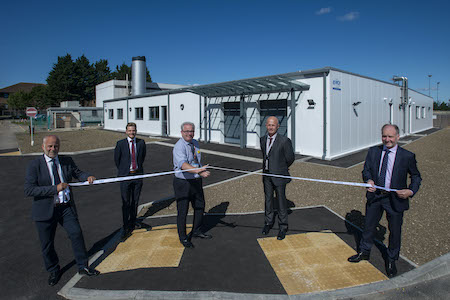 Cheshire-based modular construction company, ModuleCo Healthcare (MCH), has delivered a new modular sterile services department at Stoke Mandeville Hospital in Aylesbury, which is part of Buckinghamshire Healthcare NHS Trust.
The new facility will allow the hospital to maintain and improve its own sterile services function, while also providing a service for other NHS Trusts in the surrounding area. MCH oversaw the entire project – from order to handover, including the planning process, demolition of existing buildings, and the associated foundation works to ensure that the modules could be safely installed on site.
The project was a collaboration between MCH, its manufacturing partner, ModuleCo, and MMM Medical, which supplied the sterilisation equipment for the new facility.
John Abbott, director of Surgical and Critical Care at Stoke Mandeville Hospital, said: "This project has been quite a remarkable feat of engineering. When Marc Sweeney, head of Sterile Services, and I saw 16 modules arrive on site in early April 2020, we couldn't have imagined that just four months later we would have the newest and most modern sterile service department in the NHS."
Alan Wilson, managing director at MCH, said of the project: "We're really pleased with the progress we have made on the new sterile services facility at Stoke Mandeville Hospital. This project is a real milestone for us, as it successfully demonstrates MCH's unique offering, where we can deliver all of these works for NHS Trusts from start to finish, anywhere in the UK. The collaboration between the Trust and MCH started back in 2004 with the delivery of an outpatient facility. More recently, we have assisted with the design and installation of a Renal Unit, and it's fantastic to continue the partnership and return to the hospital to deliver high quality facilities that fit its needs."
Other News