PM visits MTX fast-track ward project in Hereford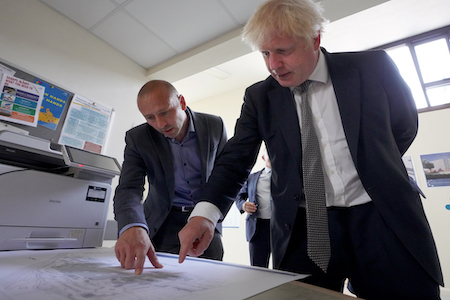 After declaring the Government's intention to deliver 'Project Speed', Prime Minister, Boris Johnson, was welcomed by healthcare construction company, MTX, to its latest £12 million, 72-bed, fast-track ward project at Hereford County Hospital.
The Prime Minister, pictured being talked through the scheme by MTX Contracts director, David Peacock, visited the construction site on 12 August keen to see for himself the now close-to-completion ward project – which is aiming to deliver the NHS 72 extra beds across three wards in just 11 months. All part of the Government initiative to 'to build better, build greener, and build faster', the new ward extension is being delivered using MTX's fast-track construction methods that it says reduce build time by up to 50 per cent.
Talking on his Twitter feed while on site, Boris Johnson dubbed the project 'the beginnings of a new series of wards for Hereford County Hospital…. the first of the 20 new hospital upgrades that this government has embarked on….the beginning of a record programme of investment in our NHS'.
MTX MD, David Hartley, said: "The site team was excited to welcome the PM to our latest project, and to talk him through the clear benefits of these rapid construction methods. For this project, the building is largely built off site in a factory, then transported and craned into position. This not only means we can deliver buildings much faster, but produces 60 per cent less waste, and ensures safer construction sites, all to the same standard and quality as a traditionally built hospital."
Other News