Every key movement tracked by Safelocking KeyBox – IQ cabinets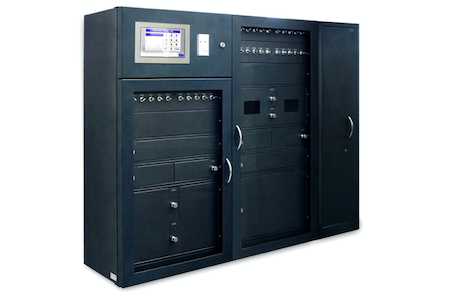 Safelocking says its KeyBox – IQ Key range of cabinets provides a flexible 'standalone' 'plug and go ready' means of safely and securely storing and managing keys, with touchscreen access to full audit and monitoring reports.
The 'reliable modular' units can be integrated into ERP and access control systems. The company said: "Hospitals, mental healthcare facilities, and care homes, present unique challenges to today's security professionals in keeping personnel, keys, property (laptops, phones etc), documents, and drugs, safe, yet accessible for authorised staff. This task is best enabled via the use of a key and asset management system."
The modular design of the Key Box – IQ panels and storage boxes allows for the supply of a custom built system which logs and tracks every key movement. Key features include:
Access to the cabinet via a PIN code, access card, and fingerprint.
Keys are secured to the RFID tags by cable seals.
Invokes alerts should keys go missing or be overdue.
Monitor how often the system is accessed, and by whom.
Safelocking said: "A recent installation required the housing of 1,000 keys in six cabinets in separate locations to be controlled and configured for a central office. The weighted trays in our lockers are our unique selling point. As with a conventional locker, an authorised key opens the locker and allows an item to be removed. However, only a product of the same weight can be put back in, minimising the chance of a different item being placed inside. Should this occur, it will trigger an alarm, both in the cabinet, and to the administrator."
In an emergency situation, an external system – such as a fire alarm system – can be configured to signal to the cabinet, enabling authorised manual override, while in the event of a power interruption, the internal battery back-up will ensure continued operation.
Other News
Featured Supplier

Intastop Ltd has been leading the way in the specialist fields of anti-ligature products and door and wall protection for over 25 years. This pedigree, combined with the company's commitment to new product development and leading edge innovation, ensures Intastop remains a leading manufacturer and supplier to the healthcare, public and leisure...