Architect appointed for £54 m North Manchester General project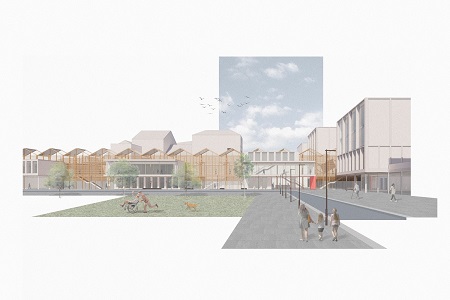 Sheppard Robson has been appointed as the lead architect for 'the ambitious redevelopment' of North Manchester General Hospital.
In a project that has recently received £54m of funding through the Department of Health and Social Care's Health Infrastructure Plan (HIP) initiative, the practice has been appointed to 'transform' the North Manchester General Hospital (NMGH) estate, 'creating a focal point for the community, with integrated health and social care facilities, high-quality new homes, and access to better education and training, alongside the creation of major new public open spaces'.
Shepard Robson says the project – led by Manchester University NHS Foundation Trust with Manchester City Council and Manchester Health and Care Commissioning, and supported by HIVE Projects – recognises that over 70 per cent of the existing estate is 'in desperate need of rebuilding'. The firm has been appointed as lead consultant and architect for the acute hospital buildings in collaboration with Medical Architecture, as well as the education centre and administration buildings.
Sheppard Robson has been working on the masterplan for the development for nearly a year, leading a team that includes landscape designer, Gillespies, transport consultant, Curtins, and planning consultant, Turley. The masterplan's overarching aim is 'to promote active and healthy lifestyles and the wellbeing of staff, patients, visitors, and the community', and its 'design principle' to create a highly sustainable collection of buildings set around a new 'village green'. 'This high quality green space will act as a focal point for the local community to use as an extension of the local neighbourhood for their health and care needs'.
Alex Solk, Partner at Sheppard Robson, and the practice's Healthcare lead, said: "It's rare to work on a project with such ambition, and that will have such transformative outcomes for the local community. We are radically rethinking the estate, and the services and facilities provided, while also reshaping the relationship the hospital has with its community – a process that will have a far-reaching and lasting impact."
The project is one of the first to receive funding through the Department of Health and Social Care's Health Infrastructure Plan (HIP) initiative, a major national initiative to invest in replacing and improving healthcare facilities. The £54 m in funding for the scheme will allow for enabling works, the provision of temporary accommodation for administrative staff, and for other site preparation activity to go ahead this autumn. Sheppard Robson added: "By preparing the site for full development, once the blueprint and final funding for the redevelopment of the hospital site is agreed in early 2021, rebuilding work can begin shortly after that."
Other News