International acclaim for Hull's 'pioneering' Integrated Care Centre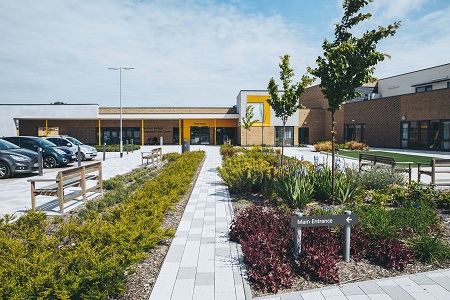 A 'pioneering' Integrated Care Centre (ICC), built to transform care for the elderly in Hull, has won the Best Social Infrastructure Project (including healthcare) in the Partnership Awards 2020.
The awards 'recognise elite projects, companies, individuals, partnerships, and providers across the globe'. The category was open to all Public Private Partnership (PPP) projects, rather than individual organisations, and the £9.5 million Jean Bishop Integrated Care Centre (ICC) was the only UK entry shortlisted for the award, fighting off competition from entries in Australia, Italy, and Ireland.
Reportedly, the UK's first such integrated care facility of its kind, the Centre primarily treats elderly patients with long-term conditions referred to their GP as being at risk of hospital admission. They are assessed before having an extensive integrated care plan formed, and a care coordinator appointed on the same day. There are therapists, voluntary services, and other specialist services, all under one roof, and blood tests and X-rays are carried out as required in a 'one-stop' appointment and follow-up care plan. The ICC is open seven days per week, and aims to keep residents fit, out of hospital, and independent in their own homes, with health and social services working hand in hand 'to ensure the whole picture is considered before discharge'. The Hull facility has seen thousands of patients and care home residents pass through its doors since it opened in July 2018, as well as contributing to a significant reduction in hospital admissions
Health estates specialist, Citycare, which says it has developed new and improved health and wellbeing facilities valued at over £120 m on behalf of its public sector partners since 2004, appointed Sewell Construction and Sewell Facilities Management to build and maintain the purpose-built ICC. The Centre is also home to Humberside Fire and Rescue Service's East Hull crew. Building on the success of the fire and rescue service and health-led Hull FIRST Falls Response Team, specially trained fire personnel support community safety and rehabilitation programmes.
Hull City Council gifted the land for the facility, as well as the Newbridge Village social housing scheme for over 65s, and Community Health Partnerships (CHP) invested in the building. The judging panel for the awards included over 80 industry professionals representing both the public and private sector, selected based on their expertise, experience, and integrity in the PPP market.
Located in East Hull, The Jean Bishop ICC is named after Hull's 'Bee Lady', who has raised over £125,000 for older people's charity Age Concern while wearing her trademark bee costume since 2000. Dr Dan Harman, Consultant Community Geriatrician and Clinical lead at the Jean Bishop ICC, who is employed by City Health Care Partnership CIC, which provides the centre's services, said: "The last few months have been very challenging for our staff, but more importantly for our patients. In response to the pandemic, we have been working extended hours, and collaborating with system partners in health and social care to continue to provide the best care for frail residents across Hull and East Riding throughout the pandemic. We are really proud that the team at the Jean Bishop Integrated Care Centre have received this prestigious international award."
During the first 18 months of operation, outcomes showed the ICC contributed to a local 2.6% reduction in emergency hospital admissions for patients aged 80 and above, and an 11.32% reduction in admissions to the hospital's Accident and Emergency department for patients in care homes following an ICC assessment.
The ICC was also designed to include a Parkinson's Disease, Chronic Obstructive Pulmonary Disease (COPD) and Dementia hub, as well as physical therapy and outpatient services such as cardiology and general medicine. In addition, the private sector partners achieved significant social benefit during the construction phase, including funding and managing an 'Arts in Health' programme with service-users to create a welcoming and recognisable space for the local community, achieving 88% local labour from a HU postcode.
Alan Johnson, independent Chair of Citycare, and former Health Secretary, said: "This project has completely changed how Hull supports its frail and elderly, and is a fantastic example of what a good PPP in health should be about. In a city where people live around 10 years less than their East Riding neighbours, the CCG and local authority have had to explore innovative routes that will make the scale of impact required and enable people to live longer, in their communities, without having to become an emergency admission to hospital. Integration has been talked about within the NHS for a long time, and this is one of finest examples you will see of that."
Other News
Featured Supplier

 
We are proud to be leading innovators in the UK's nurse call industry for 50 years. Our high quality UK manufactured technology coupled with class-leading support is trusted by well-known care homes, NHS Trusts and private hospitals. Wireless technology improves service and reduces the install and operating costs. Live data delivered to...