Bender UK equips new £2.5 m Royal Lancaster modular theatre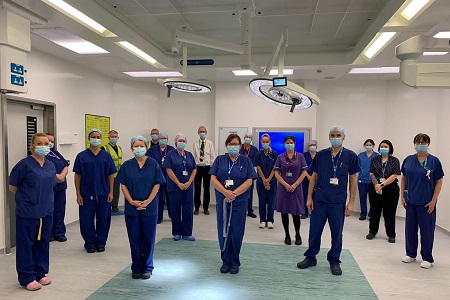 A new £2.5 million modular theatre and recovery area at the Royal Lancaster Infirmary, manufactured offsite by ModuleCo Healthcare, delivered in sections, and craned into place, is equipped with safe, resilient critical care power from Bender UK.
Bender UK also supplied specialised theatre equipment including operating lights, services pendants, a theatre touchscreen control panel, and a PACS viewing screen. The theatre, sited between the RLI's Cardiac Care Unit (CCU) and its existing theatres, was handed over to the University Hospitals of Morecambe Bay NHS Foundation Trust last October. It has been been built to provide capacity to enable four existing theatres to be refurbished and upgraded without disrupting clinical activity. The project was managed by the Trust's Capital Services Team.
Bender UK is a preferred supplier for ModuleCo Healthcare, which offers modular-built, fast-track, design and build, fully fitted permanent healthcare buildings. Once the refurbishment work is complete, the modular theatre – with a 20-year lifespan – will provide additional flexibility. Its completion means there are now seven operating theatres in Lancaster – five main theatres, and two in the Women's Unit.
To provide critical care power for Group 2 areas, Bender UK supplied a medical IT power system for the new modular unit, and a battery back-up uninterruptible power system for added resilience. The theatre features Merivaara's award-winning Q-Flow LED operating lights incorporating a wireless HD camera, and with a circular design for an optimum clean air flow to the operating table from the overhead ultraclean air canopy. The lights are also said to offer 'best-in-class' colour rendering. Other Bender UK equipment includes ceiling-mounted service pendants supplying medical gases, power, and data, and a touchscreen control panel for ergonomic control of servicing and lighting, which links via Bluetooth to ceiling-mounted speakers.
Bender also supplied an ultra-HD PACS screen with an anti-reflective and anti-fingerprint finish that links to the HD camera in the Merivaara light, and can be used for viewing medical files and X-rays. Bender UK added: "Advanced design incorporating cooling technology means no fan is required, avoiding the danger of contaminated air turbulence, and the screen is water- and dust-proof to IP65."
Mark Hampton, Capital Services manager for UHMBT, said: "This new modular theatre was particularly challenging given its location between the Centenary Building and the Ambulatory Care Unit and the Coronary Care Unit. A special thanks to the contractors, and especially to all our clinical and non-clinical departments, which have allowed Capital Services to complete this vital addition."
Bender UK has provided equipment for upgrades of theatres at other hospitals operated by the Trust, including Furness General Hospital in Barrow and Westmorland General Hospital in Kendal. It also supports the Trust with a service and maintenance package for equipment and Group 2 critical power systems.
Other News
Featured Supplier

Pinpoint are UK leading developers of high-performance Staff Attack Alarm Systems, designed to suit environments where staff are at risk of violence in the workplace.With thousands of systems installed internationally and offices in the Uk, Ireland and USA, we provide unrivalled products and services that bring personal security and peace of mind.