Innovative medical IT power solution at Crawley Hospital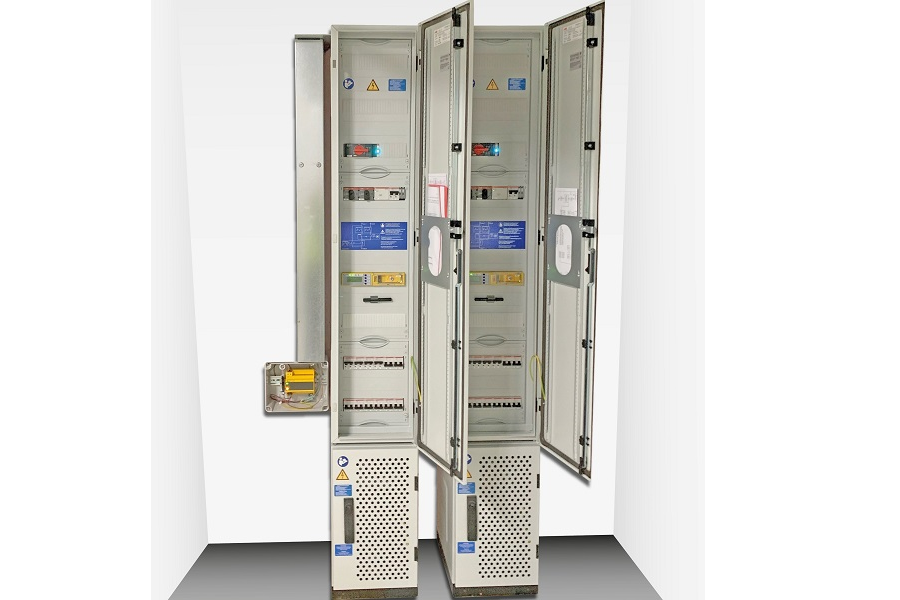 An urgent requirement for the safe supply of critical care power at Crawley Hospital in West Sussex has been met with an innovative engineered solution and use of a GRP building craned onto an adjacent roof space.
Bender was approached to provide the Group 2 medical IT power for four operating theatres in the Crawley Day Surgery Unit on the first floor of Red Wing of the hospital, which is run by Surrey and Sussex Healthcare NHS Trust. Bender UK was commissioned to undertake the work by building services specialist, CBG Consultants, on behalf of Morgan Sindall, the main contractor for upgrade work at Crawley Hospital. The compact modular medical IT power was built into an area close to the theatres, using Bender UK's engineering capability to fit the equipment into limited space, and by separating components that would normally be in a single enclosure.
However, with existing buildings already at capacity, there was little space to accommodate the larger footprint modular uninterruptible battery power (UPS) also required, so Bender UK and UPS specialist, Centiel UK, together developed a plan to install the modular UPS in a glass reinforced polymer (GRP) building, craned into position on a specially reinforced flat roof adjacent to the theatres, with cables linking them.
The innovative design facilitates access for equipment and maintenance, maximising the space available, and minimising costs. The custom-built GRP building accommodates two 'full future-proof' modular UPS systems and its own air-conditioning to maintain a stable environment for the equipment.
The entire project took just eight weeks – from approval of drawings to full commissioning of the medical IT solution serving the critical care facilities, and the UPS system within the new GRP structure. Craning the GRP unit onto the reinforced took just a single day.
Matthew Mears, National Healthcare consultant at Bender UK, explained: "The Trust had an urgent requirement for a new medical IT power system to bring the day theatres at back into service. The project required all our experience and engineering know-how to devise and deliver a solution.
The medical IT system included Bender's 'unique' ATICS auto-changeover system. ATICS technology operates in conjunction with the UPS fail-safe battery back-up system 'to provide cost-effective, future-proof resilience for critical power supplies'. Bender also designed and commissioned two 'bespoke' UPS-backed distribution boards equipped with residual current monitoring technology, which feed general lighting circuits and other non-medical loads. This eliminates the need to shut down for periodic inspection and testing.
The configuration of the modular UPS required an innovative approach from Centiel UK, which commissioned Morgan Marine to build a bespoke GRP building. Centiel's engineers installed and commissioned the UPS equipment – comprising two 'future-proofed' modular 60 kVA UPS, each including three 20 kVA 'hot swappable' modules and multi-string batteries sized to support a 40 kW load for 60 minutes in an N+N configuration – once the GRP building was in situ.
'Unlike traditional centralised parallel multi-module systems', the advanced CumulusPower technology employed by Centiel UK combines Intelligent Module (IM) technology, with a fault-tolerant parallel architecture – Distributed Active-Redundant Architecture (DARA) – delivering the highest availability and reliability.
Each UPS system is designed with spare capacity to add three 20 kVA modules in the future, enabling a seamless upgrade to a 120 kVA capacity system or 100 kW N+1.
Other News
Featured Supplier


Our prime objective is to provide product solutions and services that fully satisfy our customers' requirements and expectations.
Starkstrom is a British company, founded in 1971, which initially specialised in designing and building control panel equipment. The company has its own UK manufacturing facility and supplies operating room...
Upcoming Events
Croke Park, Jones' Rd, Drumcondra, Dublin 3, Ireland
16th - 17th May 2022
Access the latest issue of Health Estate Journal on your mobile device together with an archive of back issues.
Download the FREE Health Estate Journal app from your device's App store