Mobile cancer treatment unit with extendable sides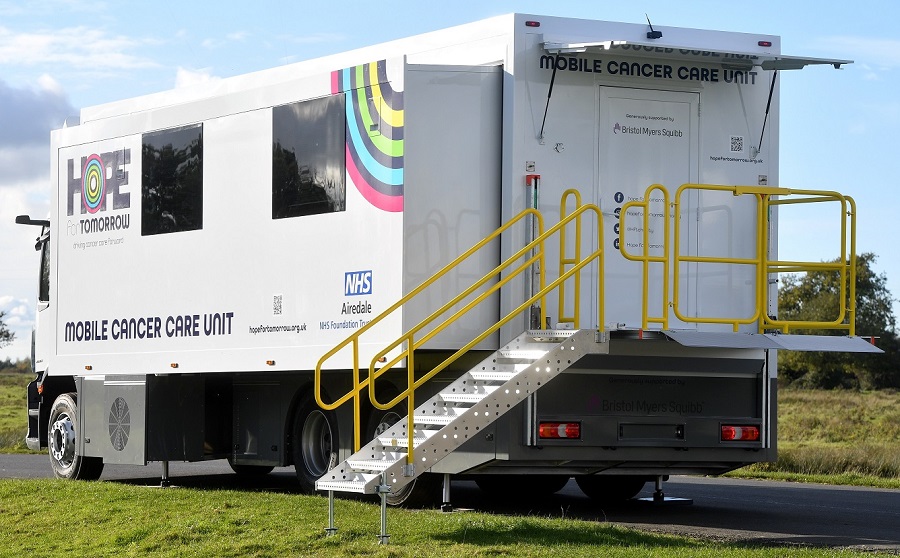 A mobile cancer care unit which can be extended hydraulically from its sides to create two consultation rooms has been launched and is being used to provide treatment to patients in the West Yorkshire.
One of the goals will be to help the Airedale NHS Foundation Trust achieve NHS England's 62-day cancer target for at least 85% of patients to start a first treatment for cancer within two months (62 days) of an urgent GP referral.
Charity, Hope for Tomorrow, which had the new 'world-first' mobile unit specially designed and developed for it by Yate-based Bence Coachworks, launched its first mobile cancer care unit in 2007, and has since continuously developed its fleet, which had grown to 13 by the start of 2021. Twelve of the 14 units it now has with the addition of the latest – its most advanced to date, and the first with hydraulic sides – are currently allocated to NHS Trusts, with two kept in reserve, 'to ensure minimum interruptions to service'. In what the charity dubs 'a unique partnership with the NHS', the 'next generation' mobile cancer care unit – which has taken three years to develop – will visit communities to offer services including accessible daily clinics, cancer screening, education programmes, and a variety of treatments. The latter include oral and intravenous chemotherapy, Paxman scalp cooling, flushing of PICC lines, and blood transfusions.
Hope for Tomorrow says there are the facilities on board to run a range of patient education and information clinics, 'meaning that ultimately patients will need to spend significantly less time attending hospital-based appointments'. It added: "Staffed by NHS oncology experts, the unit will address health inequalities, with a holistic treatment option for hard-to-reach communities. It will also offer patients more choice of where their cancer care is delivered, with less time spent attending appointments, and no compromise in quality or consistency of care."
Each of the two consultation rooms will be fully connected via digital facilities, so patients and staff on board can 'connect remotely' to the main hospital if necessary. Being attached to its HGV chassis means the unit is fully mobile.
Throughout the COVID crisis, available reserve units were deployed to support NHS Trusts wherever possible, allowing cancer services to continue where they may not otherwise have been able to. Hope for Tomorrow says it is also providing support with tackling the backlog caused by the pandemic – enabling treatments to take place away from the hospital environment, and protecting this vulnerable patient group while helping reduce the spread of the virus. In 2020, the units delivered 24,492 patient treatments.
The charity points out that moving cancer care closer to patients 'has proven health and wellbeing benefits'. It said: "In some cases, once initial consultations and first treatments have taken place, mobile cancer care units allow for the removal of hospital visits for all of a patient's treatments. The associated reduction in travel and waiting times delivers a vastly improved patient experience, reducing stress and anxiety levels."
Tina Seymour, CEO of Hope for Tomorrow, said: "This new unit has been three years in the making, and the result is a testament to our relentless commitment to making crucial cancer care more accessible for all. By facilitating educational and support sessions within a community, it will allow NHS staff to provide life-saving information, such as self-examination guidance from specialist breast care nurses. The potential for urology clinicians to host catheterisation sessions and a range of other clinics will enable patients to spend significantly less time attending hospital-based appointments."
She continued: "The need for more services like this is crystal-clear, and reflected in the increasing engagement we are seeing with key organisations. A number of outside agencies have also expressed a desire to support patients with services that go beyond healthcare from within the unit. Organisations including Citizens Advice and Be Clear on Cancer are investigating how they can offer services such as financial advice and benefit support via it."
Hope for Tomorrow receives no statutory funding, and relies entirely on donations from the general public, corporate donations, and other private funding bodies.
The latest unit's construction was made possible by a £747,764 grant from global pharmaceutical company, Bristol Myers Squibb (BMS), donated to cover its build costs and those of another unit which will be manufactured to existing specifications. The unit has been named 'Christine', in memory of the charity's founder, Christine Mills MBE, who died in 2018 from cancer.
Other News
Featured Supplier


Medstor – Total Space Utilisation
Medstor creates order out of chaos.  Our comprehensive range of healthcare storage solutions helps your hospital department to function as efficiently as possible, and look good, too.  Every element of each racking system or cabinet has beautifully simple, clean, sleek lines that not only complement the...
Upcoming Events
Croke Park, Jones' Rd, Drumcondra, Dublin 3, Ireland
16th - 17th May 2022
Access the latest issue of Health Estate Journal on your mobile device together with an archive of back issues.
Download the FREE Health Estate Journal app from your device's App store