Intastop Ltd
Unit 12 Data Drive
South Kirkby Business Park

Pontefract
WF9 3FD
United Kingdom
COMPANY INFORMATION
Intastop Ltd has been leading the way in the specialist fields of anti-ligature products and door and wall protection for over 30 years. This pedigree, combined with the company's commitment to new product development and leading edge innovation, ensures Intastop remains a leading manufacturer and supplier to the healthcare, public and leisure build markets.
Protecting Doors
Whether doors are new or retrofit, we deliver many solutions to address the challenges faced by healthcare trusts and building managers such as; reduction in maintenance costs, increasing the lifespan of the door and frame, retention of fire integrity and aesthetics.
Protecting People
Primarily focussing on key issues such as entrapment or ligature risk, we offer solutions that focus on prevalent issues such as safety, reduction of ligature possibilities, increased strength and abuse resistance, privacy, access control and compliance with build regulations.
Protecting Places
We understand the demands placed on the interior environments in which our customers operate. Not only do our solutions protect these environments but they also enhance the aesthetic appearance of places.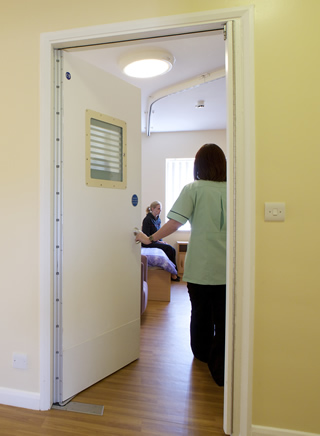 PRODUCTS AND SERVICES