Starkstrom
33 Turn Street

Syston
Leicestershire
LE7 1HP
United Kingdom
+44 (0)116 464 7480
COMPANY INFORMATION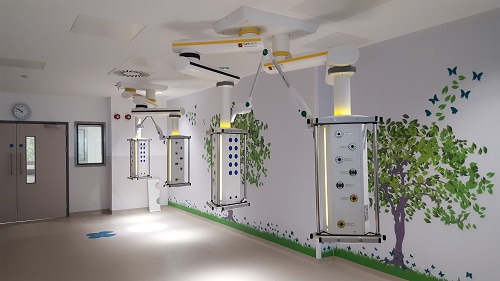 Our prime objective is to provide product solutions and services that fully satisfy our customers' requirements and expectations.
Starkstrom is a British company, founded in 1971, which initially specialised in designing and building control panel equipment. The company has its own UK manufacturing facility and supplies operating room and critical care equipment, both in the UK and overseas. In 1995, a new IEC directive came into force, requiring hospitals to have isolated power for certain medical locations. By this time, Starkstrom already had over 20 years' experience in providing specialist electrical power solutions, and had developed an effective isolated power solution, which allowed hospitals to meet the new directive. This product, first installed in Chelsea and Westminster Hospital in 1995, was a Landmark in Starkstrom's development and became a flagship product.
Starkstrom manufactures the following range of products in the UK: Clinical Pendants, Operating Room Touch Control Panels, Uninterruptible Power Supplies (UPS), Isolated Power Supply (IPS) SIL 2 approved, PACS Viewing Stations, Earthing and Sockets, X-Ray viewers and Remote Alarms.
Starkstrom are proud to partner with KLS Martin, OPT and Medap to bring you the following products;
KLS Martin MarLED® Operating Lights / Minor & Examination Lights
KLS Martin Head Lights
KLS Martin Independant® Pendants
OPT Operating Tables & OPT Surgi-Systems
Patient Trolleys
Medap Product Range
Starkstrom also offer Maintenance and Service contracts to fit your individual needs to provide you with peace of mind once the job is done. Starkstrom provides only the most advanced medical equipment and technology and is proud of its position at the forefront of operating room and critical care area design.
PRODUCTS AND SERVICES