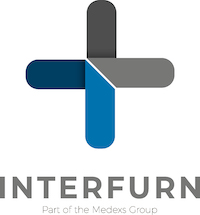 Interfurn Medical Systems Ltd
Unit 4 – Bullhouse Mill Lee Lane
Millhouse Green

Sheffield
S36 9NN
United Kingdom
01484 661120
COMPANY INFORMATION
Ultraclean Ventilation | UCV Canopies | Medical Modular Construction | Servicing, Maintenance & Validation | Specialist Healthcare Contractor
Interfurn are experts in the planning, design and delivery of innovative integrated healthcare ventilation solutions for the medical, healthcare and hospital sector. Specialised solutions include ultra clean ventilation systems and UCV canopies, right through to complete modular building systems designed specifically for the healthcare marketplace using products designed, engineered, manufactured and assembled in the UK.
We are extremely proud of our in-house design and M&E teams, who boast a wealth of engineering expertise, gained across a wide variety of projects, including new build operating theatres, theatre upgrades or refurbishments and challenging spaces.
The development of the new AIR-FLEX UCV canopy series, which is designed and manufactured in the UK in its entirety, now allows us to offer a complete range of flexible solutions for today's ultra clean operating theatres. The AIR-FLEX+ UCV canopy enables us to compete directly with other manufacturers as it provides a 'like-for-like' replacement for older, less energy efficient canopy installations, straight out of the box.
Through a combination of innovation and flexibility, Interfurn has positioned ourselves firmly at the forefront of modern operating theatre design in the UK.
PRODUCTS AND SERVICES