Providing privacy and segregation 'in minutes'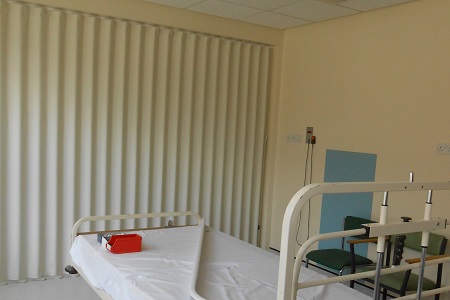 Specialist in folding partitions and acoustic moveable walls, Building Additions, says that with continuing pressures on bed space, it has enabled many UK hospitals to make their wards more flexible in the past year, and enhance infection control via segregation, through the provision of its folding fabric partitions. Healthcare facilities it has supplied partitions to include St Peter's Hospital in Chertsey, Victoria Hospital, Wallasey, Russell's Hall Hospital, Dudley, Airedale General, Keighley, and the Queen's Medical Centre in Nottingham.
Building Additions said: "Folding fabric partitions can be used in almost any building that needs a cost-effective solution for maximising space utilisation. They are also ideal where there is limited wall space available, for example between windows, doors, or other fixed furniture. Folding fabric room dividers are a versatile space solution that can provide privacy and segregation in minutes should hospital staff need to cordon off a bed or ward area. They are economical, convenient, and very easy to operate, and can be opened and closed by one person."
Each fabric divider consists of an internal steel framework covered with robust vinyl-coated fabric that runs on a heavy duty aluminium track. This system can be hung from a suitable support, negating the need for floor track, and is designed as a fully hinged concertina moveable partition. The fabric covering is very durable, rot-proof, and water-resistant, resists the growth of mildew, mould, fungi and bacteria, and is odourless, washable, and stain- resistant. Even if in constant use it will not crack or tear, and comes with a five-year warranty.
Each fabric folding wall system is specifically manufactured for the exact specification of the ward or room it will be fitted to. It can be fitted and supplied to a wide range of openings and configurations. and can even be curved to create a crescent or arching room divider. The systems are also used to create corridors or to divide an area of a ward into a smaller space.
Other News