Addenbrooke's the first UK hospital with new bedhead trunking solution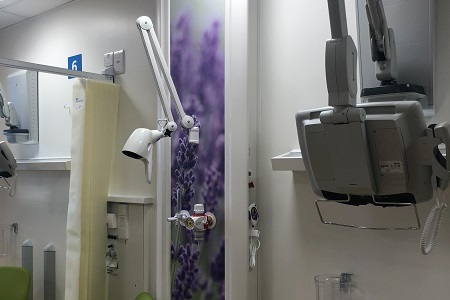 Cambridge University Hospitals NHS Foundation Trust has appointed Static Systems Group to upgrade the nurse call and bedhead services trunking in Ward C5, the dedicated Dialysis Unit at Addenbrooke's Hospital.
The ward 33-bed ward provides care for patients with general medical and kidney conditions, and comprises four single occupancy rooms and six dedicated dialysis beds. It will be the UK's first to be fitted with Vistr Headwall, Static Systems' latest bedhead trunking solution. Its existing nurse call and bedhead services trunking had been in place for some 25 years, and no longer met the Trust's requirements.
The Trust was 'already familiar and confident' with Static Systems' solutions, as they are used throughout many of the hospital's other wards. It initially considered the company's Modus Flatwall solution, 'the preferred trunking solution on site'. However, Static Systems and the interior designer on the project, Grosvenor Interiors – who worked closely together from the outset – proposed Vistr Headwall as an alternative. Static Systems said: "The new bedhead trunking system features a decorative graphic fascia that truly enhances a patient's surroundings by incorporating light and colour. Manufactured to an uncompromising standard using flame-retardant materials, the graphic can be specified to complement the ward or building décor." Grosvenor Interiors will supply the graphics for the headwall units on Ward C5.
"The Trust recognised that Vistr Headwall would better meet their requirements, creating a more visually appealing and relaxing environment for the ward's dialysis patients," explained Static Systems. "The unit incorporates all the essential patient bedhead services, providing easy access to them for clinical staff, but simultaneously keeps them out of direct sight of patients and visitors."
Static Systems' Codemlon loop wired addressable nurse call system was identified as the best solution for the upgrade. Codemlon is reportedly already used in more acute hospital wards in the UK than any other nurse call system.
See more about Static Systems Group Plc
Other News