Portable operating trolleys for emergency use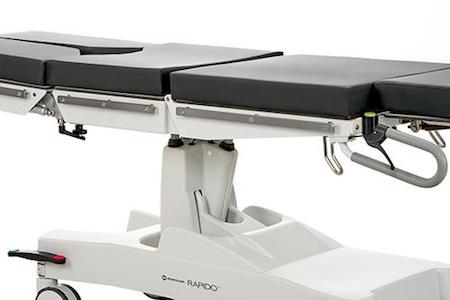 The Rapido mobile operating trolley – a multifunctional portable trolley or table produced by Merivaara of Finland, which has stepped up production to cope with increased demand as a result of the COVID-19 pandemic – is now available from Bender UK Bender UK says Rapido 'is ideal for use as a day surgery procedure table, with all the characteristics and functionality of a patient trolley'.
Sam Parry, the company's Merivaara representative, said: "This all-in-one patient trolley system enables superb patient flow through the hospital. With a safe working load of over 160 kg, the Rapido is perfect for ward areas, post‑operative, and emergency departments. Its unique design includes an oxygen cylinder holder, intravenous pole, basket, and medi-rail as standard. The large dual steer castors ensure easy movement through hospital corridors."
Bender UK, in collaboration with Merivaara, can accommodate a quick turnaround of orders, supporting the coronavirus outbreak, if required. Merivaara operating tables and trolleys are exclusively supplied by Bender UK in the UK and Ireland.
Please click here for further information:
https://www.bender-uk.com/products/operating-tables-and-trolleys/rapidotm-hospital-trolley
Other News