Find the right ceiling product with ease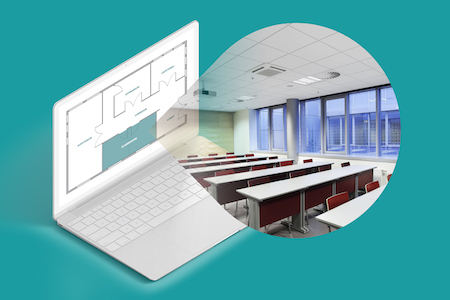 An online room selector tool, designed to helps architects and specifiers by clearly identifying which mineral ceiling systems are best for individual rooms and spaces, has been launched by leading manufacturer Armstrong Ceiling Solutions.
Available through the Applications section of the company's website, the 'intuitive tool' gives interactive advice for all the sectors Armstrong operates in – office /commercial, retail, education, healthcare, hospitality and leisure, and transportation.
For each, it details the 'challenges and solutions in general' for ceiling specification in each room or space, and, as Armstrong puts, 'lists the relevant products for the increasingly important factor of occupant wellbeing, whether it be a new-build or refurbishment project'.
Taking offices / commercial as an example, the selector tool advices on spaces such as the lobby / reception area, conference room, corridor, café, private office and open office / collaboration area – each of which has unique requirements.
Relevant case studies show how other specifiers have used such systems to meet their project's requirements, whether they be acoustic, aesthetic, light-reflectance, durability, or ease of installation and maintenance.
See more about Armstrong Ceilings
Other News