New CABE President 'a strong voice in the built environment'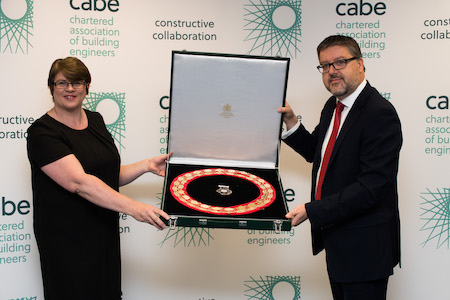 Jayne Hall has taken up the reins as the new President of the Chartered Association for Building Engineers (CABE), donning the Presidential chain for the first time in late May.
A 'unifying voice within the construction sector', CABE is a professional body that brings together members 'working across the lifecycle of the built environment specialising across a wide range of disciplines'. CABE says it 'shares knowledge, raises standards, and develops professionals, enabling them to meet the highest standards we all expect of them'.
Jayne Hall's inauguration took place at the CABE headquarters in Northampton, where Immediate-Past President, Ant Burd, 'passed the baton on from a safe distance'. (see photo)
The third female president of the Association, she began her career in architecture, eventually specialising in signage and wayfinding. Later she transferred her skills to the building control sector, and gained a degree in Building Engineering, subsequently joining CABE on a regional committee. A Chartered Member, she quickly become head of Building Control for her local authority, and was then then elected as Vice-President, and then President, of LABC.
Her day-to-day professional role is as Built Environment Enforcement manager for South Gloucestershire Council. CABE describes her as 'a strong voice in the built environment, a leader in innovative thinking', and a champion for the phrase, 'necessity is the mother of invention'. Joining her on the CABE Board will be newly elected Vice-President, Joseph Birt, Technical director at QUAM Consulting, as well as non-executive directors, Daniel Fordham and Russell Urwin. Immediate Past-President, Ant Burd, and Vice-President, Steward C McArthur, will stay on the board and continue to lend their expertise to the Association.
Other News
Featured Supplier


Our prime objective is to provide product solutions and services that fully satisfy our customers' requirements and expectations.
Starkstrom is a British company, founded in 1971, which initially specialised in designing and building control panel equipment. The company has its own UK manufacturing facility and supplies operating room...