Sustainability central to Leeds Trust's ambitious development plans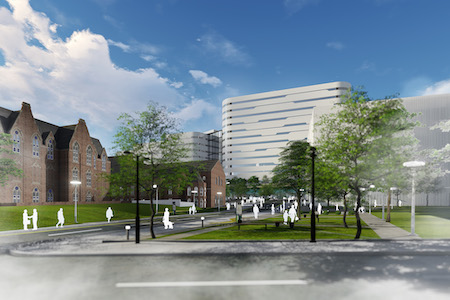 Mott MacDonald has been appointed sustainability, energy, and carbon reduction advisor by the Leeds Teaching Hospitals Trust (LTHT) to support the preparation of design briefs for its Hospitals of the Future and Pathology Project.
The Trust has ambitious plans to invest in new healthcare facilities at the Leeds General Infirmary site. A new 'state-of-the-art' hospital will expand the adult healthcare services it offers, and the Leeds Children's Hospital will be given a new home. The two new hospitals are intended to be connected to the retained Jubilee building, which will remain the primary acute services building, and continue as the major trauma building. A new 6,000 m2 pathology facility is also being delivered at Leeds's St James University Hospital site.
Mott MacDonald says that 'underlying this vision is a desire to build and run these facilities responsibly within the context of a climate emergency' – setting a roadmap for delivering against net zero carbon in the future. The 'vision' will also embed the principles of healthy buildings to improve occupant well-being.
A Trust target of a minimum of BREEAM Excellent for both developments has been set, and the opportunities to pursue WELL building standards are being explored. The sustainability agenda is to be underpinned by digitalisation, technology, and data throughout the project lifecycles.
Working with the LTHT's programme delivery team, Mott MacDonald will support the refinement and development of the design brief to encourage design teams and contractors to develop an evidenced-based design solution that also considers the systems to be included in these highly engineered facilities. The consultancy's role includes:
'Reviewing, developing, challenging, and updating' all aspects of the sustainability and energy design brief for both projects.
Reviewing, developing, and specifying all technical sustainability and energy design requirements and standards to be achieved through the design of the new hospitals and pathology facility.
Developing and articulating the vision for sustainability through a plan to achieve net zero carbon.
Rebecca Stubbs, Mott MacDonald's technical advisor, said: "This project brings fantastic opportunity to create real legacy for best practice within the healthcare sector, especially for the other schemes to come through the government's Health Infrastructure Plan. There is a real lack of what good looks like, particularly for acute buildings in the context of striving for net zero, so we are working closely with others to define this and set targets for how it can be demonstrated across the lifecycle. The LTHT projects also offer interesting challenges of working within an existing old and ageing estate that is very inefficient; we will be discussing the role of future technologies such as the viability of hydrogen or all-electric energy solutions. We are also aspiring to embed wellbeing through these buildings to put patients and staff's health and performance at the very heart of the design."
Other News