Keeping Static Under Control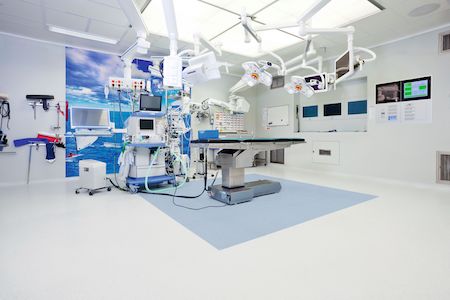 Forbo Flooring Systems' newly created Under Control collection comprises an array of flooring products to help control electrostatic discharge in sensitive areas of a healthcare facility, such as operating theatres and pharmaceutical laboratories.
The collection features the company's 'popular' Colorex tile range, refreshed with a new palette, and including two new products, and Sphera SD/EC, described as 'a technically advanced homogeneous conductive sheet vinyl range'.
Completely new to the market, the Sphera range offers two options depending on the performance required for the area. Sphera EC is a permanently conductive solution, available in 13 colourways, which feature marbled chips that blend with the carbon black chips required to support its functionality. The Sphera SD option is a permanently dissipative solution that is available in 14 colourways, which mimic those found within the EC range, and feature a neutral coloured dissipative chip –delivering a softer aesthetic.
Reliability and trust are essential values when it comes to the functionality of conductive properties; the floor must perform – regardless of humidity levels – for the duration of its working life. Forbo said: "Unlike other products, which can be affected by a loss of function over time by drops in humidity, the performance of Sphera SD/EC is based on material that is permanently conductive by nature, meaning that the product will function no matter what the indoor environment is like, or the age of the floor."
Both Sphera ranges also feature Forbo's 'SmartTop' control conductive PUR lacquer, which the flooring specialist says 'delivers guaranteed conductive performance and chemical resistance for the product's lifetime', while the 'unique embossing structure' ensures that the surface is scratch-resistant and easy to clean.
Also sitting in the newly formed Under Control collection are the existing Marmoleum Ohmex range and Forbo's Colorex Tile solutions featuring new options. Alongside newly refreshed colour palettes for the Colorex SD and EC ranges, the new Colorex Glow is a permanently conductive solution. Colorex Glow provides a phosphorescent glow for up to four hours after exposure to a light source, 'making it the ideal solution for floor safety signage, and to guide occupiers to exits in case of a power cut'.
The Under Control collection has been designed to comply with all the ESD and cleanroom standards, including those from the Fraunhofer Institute.
For more information please visit www.forbo-flooring.co.uk/undercontrol
See more about Forbo Flooring Systems
Other News
Featured Supplier

Medical Gas services  provide a professional service healthcare provider for all types of premises  with a specialist ability  in the smaller establishment needs where a more tailored and specific help is required.

Our employees have cumulatively over 150 years experience with Medical Gas pipeline and cylinder installations and provide...