Helping Manchester's Nightingale hospital prevent infections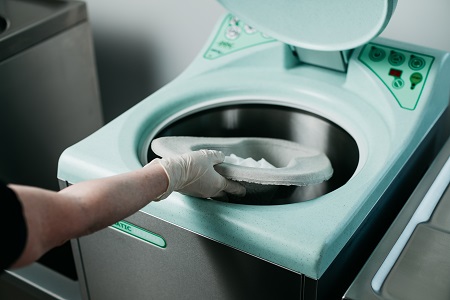 Infection control specialist, DDC Dolphin, has supplied the NHS Nightingale Hospital North West with several of its Pulpmatic Ultima medical macerators for the safe disposal of pulp bedpans and human waste.
Operation is hands-free on the Pulpmatic Ultima, the company's largest capacity medical pulp macerator, which DDC Dolphin recommends for high-use sluice rooms because – it claims – it has the largest maceration capability of any machine on the market – and a very short cycle time. The nine-bladed macerator completes a cycle in just 120 seconds – safely pulverising up to six items of medical pulp each time, while a programmable automatic drain flush limits the build-up of stagnant water, to help combating the risk of Legionella growth and proliferation. Pre- and post-maceration self-cleaning helps to prevent blockages in waste pipes.
The Ultima's lid has built-in antimicrobial technology, while an optional noise reduction kit makes the machine suitable for quieter isolation wards. DDC Dolphin Marketing director, Zoe Allen, said: "The Pulpmatic Ultima is a great 'workhorse' because of its market-leading capacity. It is also extremely economical – it uses very little energy and water. We've always been proud to support the NHS – especially now, as staff face rising numbers of COVID-19 cases, the annual winter 'flu season, and a backlog of postponed procedures."
The £10.25 million Nightingale North West field hospital at the Manchester Central Convention Complex has 750 beds, and was set up in just 13 days. Earlier this year, DDC Dolphin supplied 16 sluice room machines to Cardiff's Nightingale Hospital at the city's Principality Stadium.
Poole-based DDC Dolphin manufactures and supplies sluice room equipment including medical pulp macerators, bedpan washer disinfectors, incontinence product macerators, air purifiers, medical pulp consumables and maceratable / flushable wipes.
Other News
Featured Supplier

Intastop Ltd has been leading the way in the specialist fields of anti-ligature products and door and wall protection for over 25 years. This pedigree, combined with the company's commitment to new product development and leading edge innovation, ensures Intastop remains a leading manufacturer and supplier to the healthcare, public and leisure...