Grange University Hospital opening marks 'pivotal point in healthcare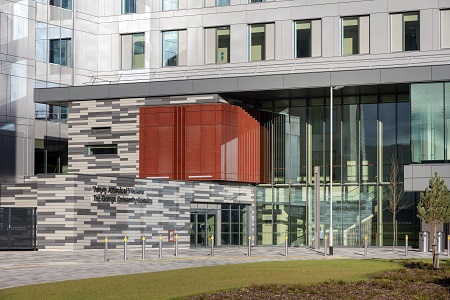 The £350m Grange University Hospital (GUH) in Gwent in South Wales opened to patients on 17 November, four months ahead of schedule, in a bid to help the Aneurin Bevan University Health Board (ABUHB) respond to winter pressures and COVID-19.
Architects, BDP. dubbed the hospital a key component of the Board's Clinical Futures Programme, which is 'transforming health service delivery' across the Gwent region. Working closely with Gleeds, and main contractor, Laing O' Rourke, BDP designed and delivered several sections to allow the building to open partially in April, almost a year earlier than planned – in response to increasing numbers of COVID-19 cases in the locality. Following the Board's recent occupation of the remaining space, the hospital will now provide a centre of excellence to treat the region's most seriously ill patients, or those with significant injuries. It will also act as the Emergency Department (A&E) for everyone living in Gwent. In the past, the Royal Gwent and Nevill Hall Hospitals have both provided these emergency medical services, but these will now be centralised to ensure the highest standard of care provision.
Architect director at BDP, Adrian Hitchcock said: "Our design and project support has enabled Aneurin Bevan University Health Board to expedite the completion of The Grange University Hospital to help in Wales' battle against COVID-19. The design concept saw the hospital divided into three distinct zones, which could be progressed with a degree of autonomy from one another. This, along with the ability for us to adopt offsite fabrication of components for this project, has helped make this extraordinary achievement possible today. This world-class healthcare facility will provide crucial and life-saving care for people of Gwent, now and for years to come."
Victoria Head, Gleeds' head of Healthcare in the UK, said: "As work on the GUH project comes to a close and the building comes to life, welcoming patients and delivering first-class healthcare services, I feel immensely proud about what our team has achieved – the provision of a fantastic facility, well ahead of schedule, and against the backdrop of the worldwide COVID-19 pandemic. Our commitment to doing things differently has paid dividends, from a programme saving of 23% achieved through our use of Modern Methods of Construction (MMC), to our pledge to collaborate with BDP, Laing O'Rourke, and the ABUHB throughout. The GUH has changed the rhetoric of how healthcare projects should be delivered; we must take this template into the future, striving for better in the construction industry and to support our wonderful NHS, to whom we owe so much."
Mike Lewis, Laing O'Rourke Project director, added: "I am extraordinarily proud of the team which has delivered GUH four months ahead of schedule amidst a global pandemic. Early handover was possible because we used MMC from the outset, and in doing so were able to deliver 50% of the building to Aneurin Bevan University Hospital Board back in April – a year earlier than originally scheduled. This project marks a pivotal point in healthcare delivery, paving the way for future hospital builds."
Grange University Hospital (previously known as the Specialist and Critical Care Centre) is the centrepiece of a new model of healthcare delivery serving over 600,000 people, and will deal with all major emergencies, and treat and care for those needing complex emergency or critical care. It will have 471 beds and be home to more than 40 specialist services with a helicopter pad for patients who need to arrive by air ambulance. BDP says careful modelling of staff and patient flows in the design phase 'allows early streaming to a point of care and access to timely and expert care'; this is supported by dedicated circulation systems for front and back-of-house services enhancing patient privacy.
BDP added: "The hospital is designed to be flexible, adaptable, and expandable. The use of universal rooms allows operational flexibility and blurring of departmental boundaries to deal with changing demand. It takes advantage of the landscaped setting, offering views across the surrounding countryside, and access to therapeutic spaces to promote healing and wellness. The workplace also offers a highly connected environment, with high quality staff spaces to attract and retain the best workforce."
The building was designed to level 2 BIM, with the use of digital technology maximised through the supply chain.
Judith Paget, CEO of the Aneurin Bevan University Health Board, said of the new hospital: "It will help us create a much improved care environment, timely access to emergency care, and ensure that patients get the best outcomes from their care."
The ABUHB provides a complete range of services for patients in Newport, Torfaen, Caerphilly, Blaenau Gwent and Monmouthshire, and South Powys, across 14 sites. The Health Board employs over 14,000 staff, two-thirds of whom are involved in direct patient care.
Other News
Featured Supplier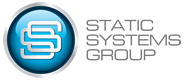 Static Systems Group (SSG) is synonymous with healthcare communications. For almost 60 years our name and reputation have been trusted widely among professionals in the acute and mental health sectors.