Avidicare delivers 35 Opragon systems to New Malmö Hospital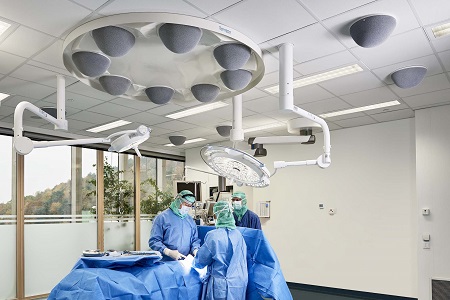 A customer for over 12 years, the county of Scania in Sweden has placed an order for 35 Opragon ventilation systems from Avidicare for the Department of Surgery at the 10-storey, 110,000 m2 New Malmö Hospital via its HVAC partner, Assemblin AB.
The systems will be installed in 19 operating theatres, four hybrid rooms, and 12 preparation rooms beginning next year. Avidicare installed the first Opragon systems in Scania in 2007, and says that several hospitals in the county have since followed with their own installations, giving users long-term experience of the 'innovative' Opragon ventilation system's practical benefits. Avidicare says surgical staff report that the ventilation systems contribute to a low-noise working environment, with 'no air chill', and a large and flexible ultraclean working area – all combining to keep patients and staff safe and comfortable.
"The advanced Opragon ventilation system creates ultraclean air in the whole room, which enables a larger surgical working space, a more flexible use of the room, and increased safety for both staff and patient," explained Anders Lindblad, head of purchasing for the Malmö project at Assemblin Ventilation AB. Reports from the Swedish Energy Agency confirms that the system uses 30% less energy than competing systems, and is easy to install."
"We are extremely proud to have been selected for this prestigious project," added Avidicare CEO, Peter Höjerback. "Following the current pandemic, everyone is recognising the threat from airborne contamination, and we are glad to have a proven system that actually works to reduce infections."
"We are glad that the surgical teams in Malmö will be able to get a flying start in what it will be like to work in these new rooms, having recently opened two operating theatres and one preparation room equipped with Opragon in a temporary orthopaedic module," added Bengt Hjertberg, key account manager at Avidicare AB.
The Opragon system is based on temperature-controlled airflow, and, Avidicare says, has been proven to reduce airborne contaminants including bacteria and viruses in several independent studies. Avidicare added: "Of course less airborne bacteria mean fewer infections, which is important, as more than five times more people die from hospital- acquired infections than in traffic in Sweden."
The first teams will move into the new hospital in Malmö in 2024. Skanska is building the facilities on behalf of Region Skåne. The architects on the scheme are Malmö-headquartered White Arkitekter.
Other News
Featured Supplier

Delivering power, heating and cooling for the healthcare sector In some industries, a minute's delay is simply not an option. When lives are on the line, the last thing you need to worry about is whether the lights stay on in the operating theatre, or heating in a hospice. The healthcare sector is the safety net that protects us all, but the facilities required by this vital sector need constant power and temperature control.