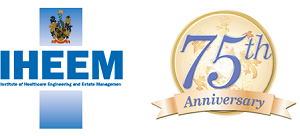 IHEEM
2 Abingdon House
Cumberland Business Centre
Northumberland Road

Portsmouth
Hampshire
PO5 1DS
United Kingdom
023 9282 3186
023 9281 5927
COMPANY INFORMATION
The Institute of Healthcare Engineering and Estate Management (IHEEM) is an International Professional Engineering Institute, a specialist Institute for the Healthcare Estates Sector.
IHEEM's primary purpose, as a professional development organisation, is to keep members up to date with developing technology and changing regulations, and various types of membership are available.
The Institute was founded in 1943 and was originally called the Institute of Hospital Engineering until 1966. In 2018, IHEEM will be celebrating it's 75th anniversary.
IHEEM is a Registered Company (895080) and a registered Charity (257133).
PRODUCTS AND SERVICES
Featured Supplier

Ascom provides award-winning nurse call and mobile communications systems to over 120 NHS and private hospitals across the UK. With our smart nurse call, you get so much more than just a standard system - including two way speech communication and medical device integration.
We've listened to the challenges of estates teams - so it's easy to...