Franke
14 Napier Court
Gander Lane

Barlborough
Derbyshire
S43 4PZ
United Kingdom
+44 (0)1246 458900
COMPANY INFORMATION

Franke Sissons and Dart Valley Systems
Franke Sissons have specialised in commercial washrooms products for over 200 years, Dart Valley Systems are a market leader in water-saving products and automatic washroom solutions for over 35 years. Franke Sissons and Dart Valley Systems have united to provide one wonderful solution to specialist applications.
Together, both brands form Franke Water Systems, provide a washroom solution with the capability to cover some of the most demanding environments. Key markets include mental healthcare, healthcare, custodial, retail, leisure, education, airports and other public and semi-public washrooms. With state of the art manufacturing facilities in the UK and Europe, Franke Water Systems have the capability to deliver standard, customised or fully bespoke results for any project.

Stainless steel scrub up troughs
Scrub up troughs are an essential piece of hospital equipment to enable one or more surgeon or nurse to scrubtheir hands and forearms. The Franke range of scrub up troughs have been designed to meet the requirements in healthcare facilities with left or right hand waste options and sloping edges to prevent water spillage. Manufactured from robust 1.5mm stainless steel for added durability. This range has been specifically designed in accordance with the stringent HBN 00-10, part C guidance.

VariusMed
Hygienically sensitive areas in hospitals and other medical facilities require extra attention during planning and design, with functionality, material selection and ease of cleaning being extremely important. Franke has designed a range of VariusMed basins designed to fulfil these requirements. Manufactured from Miranit resin bonded mineral material, which is seamlessly moulded and pore-free, the VariusMed SU and MP offer an easy-to-clean and practical solution whilst ensuring optimum hygiene. Fully coated with a high gloss gelcoat, the hygienically smooth surface effectively counteracts the adhesion of bacteria and micro-organisms.
The VariusMed range has been designed so that both bowl shapes and surfaces are designed to keep hygiene to a maximum. The VariusMed SU scrub up trough has been designed for medical and surgical facilities. This bowl has an ergonomic shape which includes a large inside radii, with a slight rearward slant to prevent water from dripping off the basin on to other surfaces. The VariusMed MP multi-purpose basins are ideal for medical facilities, the front splash-guard edge which spans across the entire width prevents water from dripping on to other surfaces.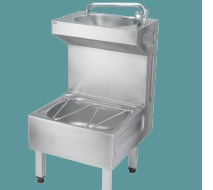 Janitorial units
The Franke G20055N janitorial unit has been manufactured specifically for healthcare environments in accordance with HBN 00-10, Part C guidance. The robust 1.2mm thick stainless steel is the ideal material for busy healthcare facilities where cleaning and maintenance is essential.
The WRAS approved lever operated monobloc mixer has a swivel neck for use in either the sink or to fill a bucket. Ideal for hospital use with copper tails, the unit is complete with 32mm flush grated waste (top wash bowl) and 38mm domed waste (lower bowl).
PRODUCTS AND SERVICES