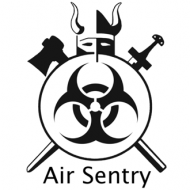 Air Sentry UK
Old Stables
West Street

Great Somerford
SN15 5EH
United Kingdom
01666 818087
COMPANY INFORMATION
Airsentry® is based near Malmesbury, in Wiltshire.
In 2001 we realised that there was undocumented air contamination occurring to surfaces, through our owners previous innovation of ICU and OR service delivery pendants, as CEO of Trumpf Kreuzer UK.
It took from 2001 to 2003 to translate this into a workable concept and to 2007 before a clinically acceptable trial system was available.
Unit Types
Airsentry
– Wall mounted EN14644 Ultra Clean Air system – Part Number AS
H.E.P.A 14 / Defence Grade Active Carbon plus pre filters
Airsentry Belfast
– Mobile or Static relocatable EN14644 Ultra Clean Air System – Part Number ASB
H.E.P.A 14 / Defence Grade Active Carbon plus pre filters
Positive Pressure Module
– H.E.P.A 14 with G4 pre filtration – Part Number PPM
Negative Pressure Module
– H.E.P.A 14 with G4 pre filtration – Part Number NPM
Early fixed system 2011
This gradually evolved into a modular system, able to offer both fixed and mobile solutions for health care, using H.E.P.A derived Ultra Clean air.

Our system is also able to offer both positive and negative pressure.
Airsentry® is the only system on the market designed to achieve whole room air currents. It has been evolved to meet and comply with the stringent air requirements of British hospital OR and ICU areas.

The system is in use with the NHS and private health care and has been passing accreditation for those areas since 2010.
Mobile based fixed Ultra Clean system with Positive Pressure in small private OR area, London 2014
Working closely with Malmesbury based Megasteel subsidiary, Sweetnam & Bradley Ltd, we have the manufacturing capability of well over a 1000 units a week.

If you would like to email us please do so via important@airsentry.co.uk
At this time, due to responding to Sars-Cov-2 (Covid19 / coronavirus) Airsentry production is focused on mass producing Ultra clean Mobile units only
The Airsentry system commenced with a simple wall mounted unit, a little larger than an older microwave oven. A single unit is capable of maintaining an HBN57 compliant ITU room as Ultra clean. The system operates by using our purpose designed EN14644 compliant five stage filtration system. This is unique to our system and the only EN14644 compliant system currently on the market.
Early wall mounted system, mounted well clear of staff
Systems were first installed, after robust testing by the NHS at their Leeds facility, in 2009.
We have clients who have reported zero H.A.I since installation, over the last decade.

The system then evolved due to requests for negative and positive pressure. Today it is a simple matter to have the units configured on a bespoke basis to meet individual requirements. It is possible to have both positive and negative pressure available with the core system however experience to date has shown most clients opt for either.
The system has found application in many areas where Ultra Clean air is beneficial.
Once deployed an area will become Ultra clean within 30 minutes of operating, with regard to its air quality.
PRODUCTS AND SERVICES